STEP 2
CONVERSION FOCAL POINTS
Step 2 is only available to existing clients who have completed the 12 conversion focal points and have the proof that their Growth Funnel Journey is generating a consistent and predictable flow of new sales leads that convert into profitable sales.
Once you have the proof and the confidence that your sales funnel can not only pay for itself but can deliver a return on your investment, then it's time to move onto Step 2 and focus on a new set of 8 conversion focal points. 
This is all about selling your product or service and generating a Return On Your investment. It's time to get more of your warm sales leads purchasing your product or service and implementing your strategies. The faster you convert your warm sales leads into Ideal Clients, the faster you become the go to expert in your chosen niche.
The advantage of this automation is that you don't even need to sell because as your sales leads consume your Lead Magnet Journey content they decide for themselves to purchase, all you need to do is make it a no brainer choice for your warm sales leads to buy from you, by being there for them, making sure they are accountable and making sure they continue to implement and achieve their end desired results.
If they see you as the only way to get this done and your One Thing product or service as the next logical step to take – then it will be their idea to buy and implement.
These 8 conversion focal points represent the main parts within Step 2 that are responsible for the success or failure of creating, implementing, optimising and automating the most critical component of your business – your Sales Lead Generation!
You need to prove that Step 2 is working
To get the proof that your sales funnel is attracting sales leads and converting them into ideal clients, you will need to use the same Funnel Tracker system as you did in Step 1. Although once your sales funnel starts to gain momentum and you are starting to convert some sales leads into profitable sales, we will advice you on some low cost analytic tools to help with monitoring all of your statistics and raw data. Our goal is to make sure we can create new sales, which means we will help you monitor each of teh conversion focal points within Step 1 and now in Step 2. Step 2 is all about transformation, which means we need to monitor each of your calls to action and make sure they are converting. Your tracking will make this job very easy and allow us to know exactly where we need to start split testing and make the small changes that will generate more sales.
By Step 2, we will know what success looks like – so all we need to do is measure it and keep doing more of the same.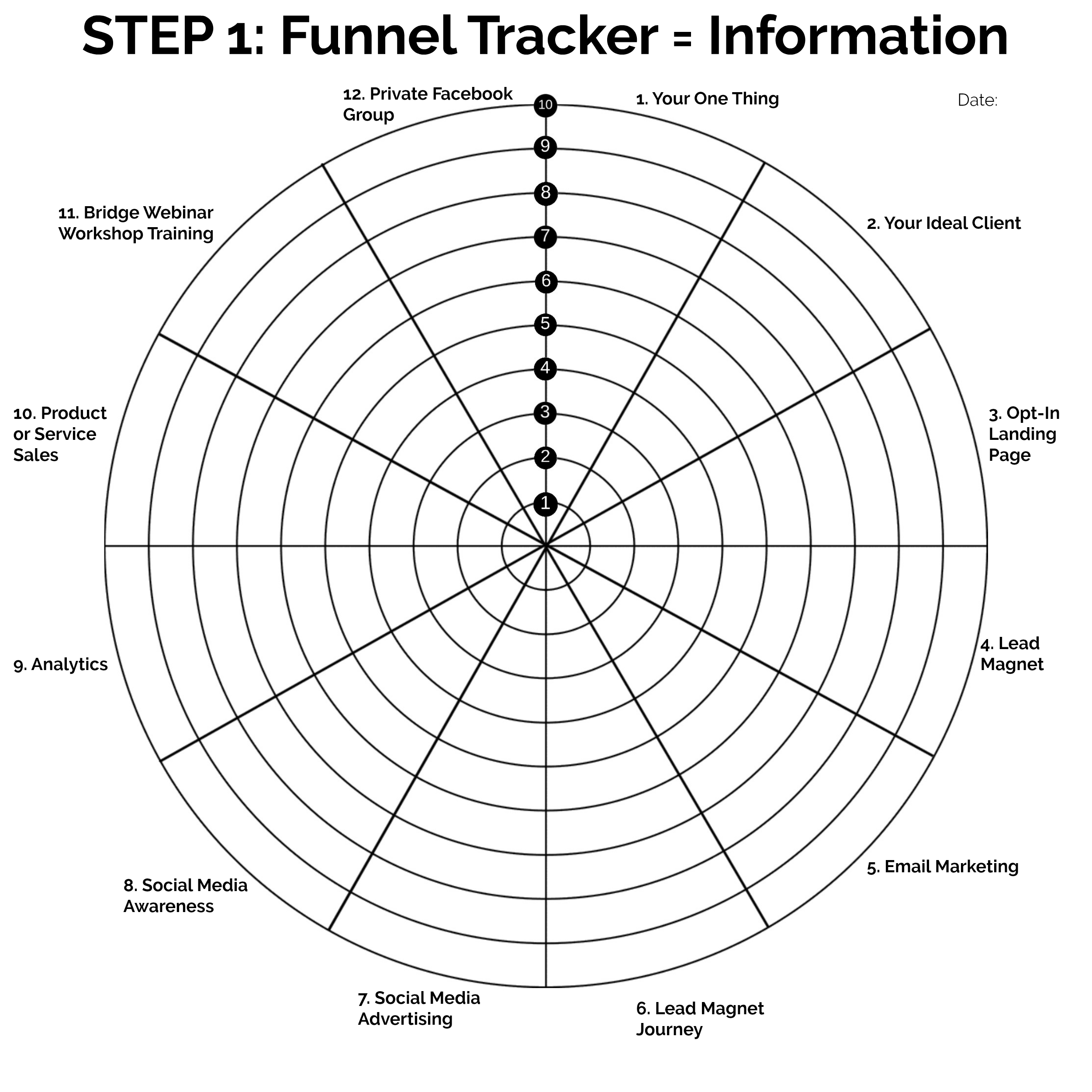 Taking the guesswork out of your success
Once you start implementing the next 8 conversion focal points within Step 2, it means you now have 20 conversion focal points that work together in perfect synchronicity to help leverage your 1 to many selling model. And you have the 2 funnel tracker wheel helping you to measure and monitor everything, giving you a snapshot at a point in any given time, so you can see how much your going to earn, how much you are currently earning and what is needed to earn even more.
I hope this is starting to help you realise that without this level of detail, building a sales funnel for your own business will be very difficult. Maybe you have already built your own sales funnel and it's not performing as expected. If so, then now you should have a deeper understanding that you need a system to make it work.
If any of these 20 conversion focal points fail, if just one link breaks in the chain, your whole sales funnel starts to fail. That's why every one of these 20 conversion focal points are monitored and reviewed within your funnel trackers.
And if you are worried about the technical side, well you know I've got you completely covered. Everything technical has been pre built for you, so you have no excuses…
You get to implement everything without putting your business at risk, and you learn everything without wasting time and money. And if you have any questions, you are covered with our technical support team.
That's the real advantage of the growth funnel journey, you're only focusing on One Thing at a time, so it becomes very easy to master your perfect sales funnel.
'ONE' bulletproof strategy and 'ONE' disciplined execution plan:
A good marketing automation strategy is focused on your sales leads needs, helping them to move through your sales funnel in a natural way. By collecting data from the interactions they have with your Lead Magnet Journey content across multiple channels, you can deliver the right content at the right time. A successful approach will be to use your data to better understand your sales leads intentions and buying habits so that you can influence their decision making.
Recommend the products or services to your ideal clients that they want to purchase.

Increase your email open rates and link clicks by delivering more focused content.

Attract more sales leads that convert into ideal clients via your social media advertising.

Publish your social media content across more platforms and really start to increase your product or service awareness.

Find out what traffic source generates you more sales and increase your advertising spend.

Use your analytics to generate more sales and increase your sales.

Find more brand ambassadors to help you increase your sales.

Run more webinars to segmented sales leads to increase your conversions to sales.
So let's have a quick look at Step 2's Conversion Focal Points:
1 = Recommended For You
Task: Use your analytics to get your products or services infront of the sales leads who are interested in purchasing.
Test: Use tags, goals and scoring to segment your sales leads as they consume your products or services.
Proof: Segment your ideal clients and analyse their tags, goals and score to see if it's working.
2 = Email Marketing
Task: Change the language to be more call to action orientated so that your sales leads book more calls, attend more webinars and make more purchases.
Test: Monitor your clicks within emails and keep changing the content until you see an increase in clicks. 
Proof: Monitor your email stats and make sure they are increasing and sales are increasing.
3 = Social Media Advertising
Task: Start using more retargeting and lookalike audiences.
Test: Make different adverts for different stages of your funnel to keep reminding your sales leads to return to your content.
Proof: Run traffic to one blog at a time to see what messages and content resonate the most with your sales leads.
4 = Social Media Publishing
Task: Try new platforms to advertise on and monitor the sales leads who enter into your funnel to see if they purchase.
Test: Use your analytics to decide if new platforms are providing a higher return on investement.
Proof: Once you see your sales increasing on one platform, move onto the next and keep analysing your click costs and sales.
5 = Product or Service
Task: Start getting testimonials from ideal clients.
Test: Keep sharing more testimonials within your posts, WebPages, emails and webinars until you see an increase in sales.
Proof: Monitor the clicks and views of your testimonials and increase traffic to the most popular ones.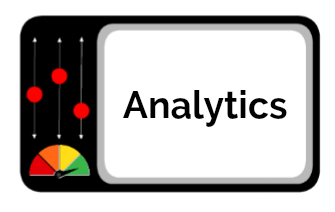 6 = Analytics
Task: Invest in more analytic monitoring software to make your results easier and faster to read use.
Test: Keep increasing traffic to the content that is being watched the most, use that content within other areas to see if it's helping conversions.
Proof: Use your analytics to make sure everything you are doing within your funnel is increasing your sales.
7 = Brand Ambassador
Task: Start up private conversations with top clients and anyone who can compliment your One Thing product or service.
Test: Provide your Brand Ambassadors with content to share, so it becomes very easy for them.
Proof: Provide source tracked links to see which brand abassador is generating the most traffic for you.
8 = Bridge Webinars
Task: Run more live webinars to increase your trust, authority and relationships.
Test: Increase your calls to actions and monitor the click through rate on each one.
Proof: Keep split testing and changing your content until you see your calls to action start increasing.
CLICK THE BUTTON BELOW TO BOOK YOUR CALL
I'M READY – ARE YOU?
If you know that your business will benefit from a Social Media Marketing, Lead Magnet and Sales Funnel, then book this 60 minute call and we will discuss your Social Media, Lead Magnet and Sales Funnel strategy. You can then decide if this will work for your business. We will not use this call to try and sell you something – this will be an Audit and Mapping call.