We create your content to grow your website traffic – Step 1


When someone finds you on social media or through an advert and likes your content, trust starts to build. Once that happens, it's the perfect time to ask for a small commitment – downloading your lead magnet so you have permission to get to know them.
We 

create

 your content that attracts your ideal clients and converts them into sales

.
Find Out How We Transform Your Product or Service Into Content That Gets Your Ideal Clients Finding You and Buying From You…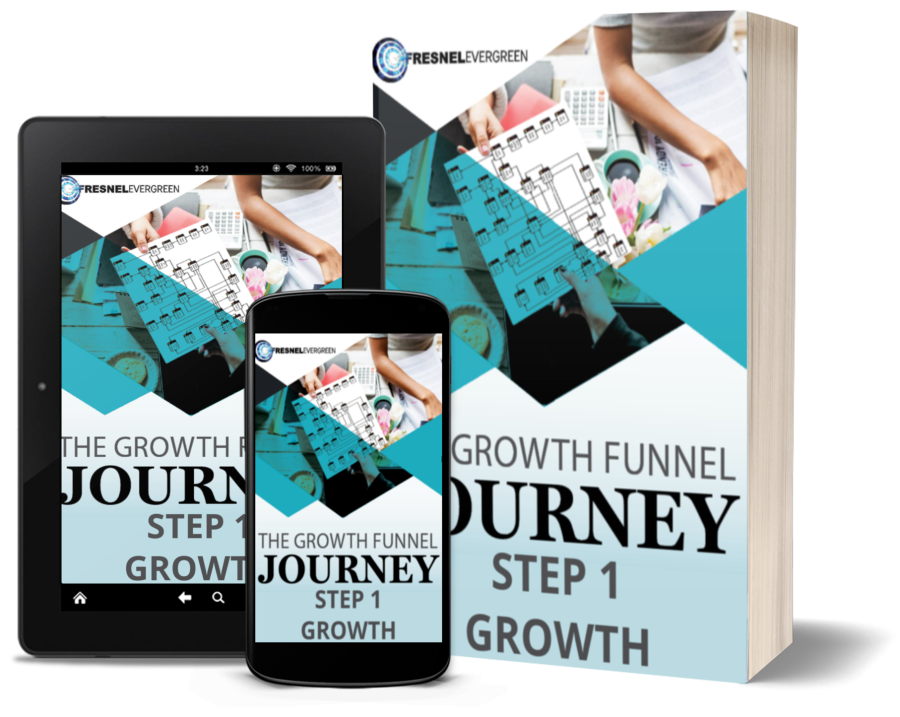 Includes A Mini Video Series That Explains Everything You Need To Know About Step 1
We create your content that your ideal client is searching for with our Content Mapping system.
This content funnel strategy optimises your social media accounts, configures your website so it's ready to track and retarget all of your traffic. It helps you define your ideal client persona so that you only attract the clients you want. It helps you plan out your customer purchasing decision journey through a unique mapping system, then you go through the interview questionnaire and end up with a years worth of engaging social media posts, blog posts, press releases, eBooks, webinars, workshops, online courses, and email campaigns.
Then you use your content across all of your social media platforms to attract new prospects, convert them into interested email subscribers, fill your sales funnel, build a community to generate a predictable, consistent flow of highly qualified sales leads who can get on a call with you and be converted into ideal clients.
2 x 2 Hour – 'SEO Content Creation Map' Zoom Calls

4 x 2 Hour – 'SEO Content Creation Questionnaire' Calls

1 x 'Master Content SEO Document'
LinkedIn Posting Strategy
Here Is A Sneak Peek Of What We Can Do For You:
Social Media Optimisation
Before you start using your blogs and social media posts to connect with your potential online clients, increase your engagement and retention, increase your brand's value, or even just build stronger relationships with your existing clients, you will need to make sure your Social Media Platforms are all set up and fully optimised. You need to build a solid social foundation across all of the core social platforms where your clients are hangout out. The core platforms are typically LinkedIn, YouTube and Facebook. These platforms also have the ability to create community groups which are necessary when it's time to grow your own community.
Website Configuration
The first step within 'Growth' is all about building your content foundation. To build your content foundation we focus on 3 unique focus points. The second is your Website Configuration. Once your social media platforms are all set up and ready to deliver a consistent branding message, you need to make sure your website is ready for the new traffic. Your website is a very powerful marketing tool because it represents your entire business. And your website will play a significant role within the success of your content marketing strategy.
Ideal Client Targeting
Before moving onto your content creation, you need to know exactly who your Ideal Client is and what problem or pain they are currently experiencing. Your ideal client is someone who finds the perfect solution to their problems or pain in your product or service. Your Ideal Client will be loyal to your company, frequently use or buy your products or services, and more likely become a brand ambassador who will recommend you to their friends and colleagues. Which means it's critical to be specific and know exactly who they are. Sales is a numbers game and a conversion game, which means you need to increase the number of ideal clients being attracted into your company and focus on the activities that will convert them into ideal buying clients.
The second step of 'GROWTH' is content creation. We understand that content is the achilles heal of nearly every business. Your content needs to be in context to your product or service solution. It needs to help your ideal client achieve the solution they are searching for. Which means it needs to influence their purchasing decision journey. With so much information available online, getting the attention of your ideal clients is an uphill battle. You need to stand out, be consistent and deliver the solution they need and want. This is why we make sure your social media posts and blogs are easily found by keeping them relevant to your ideal clients keyword searches and the solution they need. Not only is it well planned content, but it helps to reflect the unique perspective of your branding, as well as taking into account the needs of your ideal clients buying journey.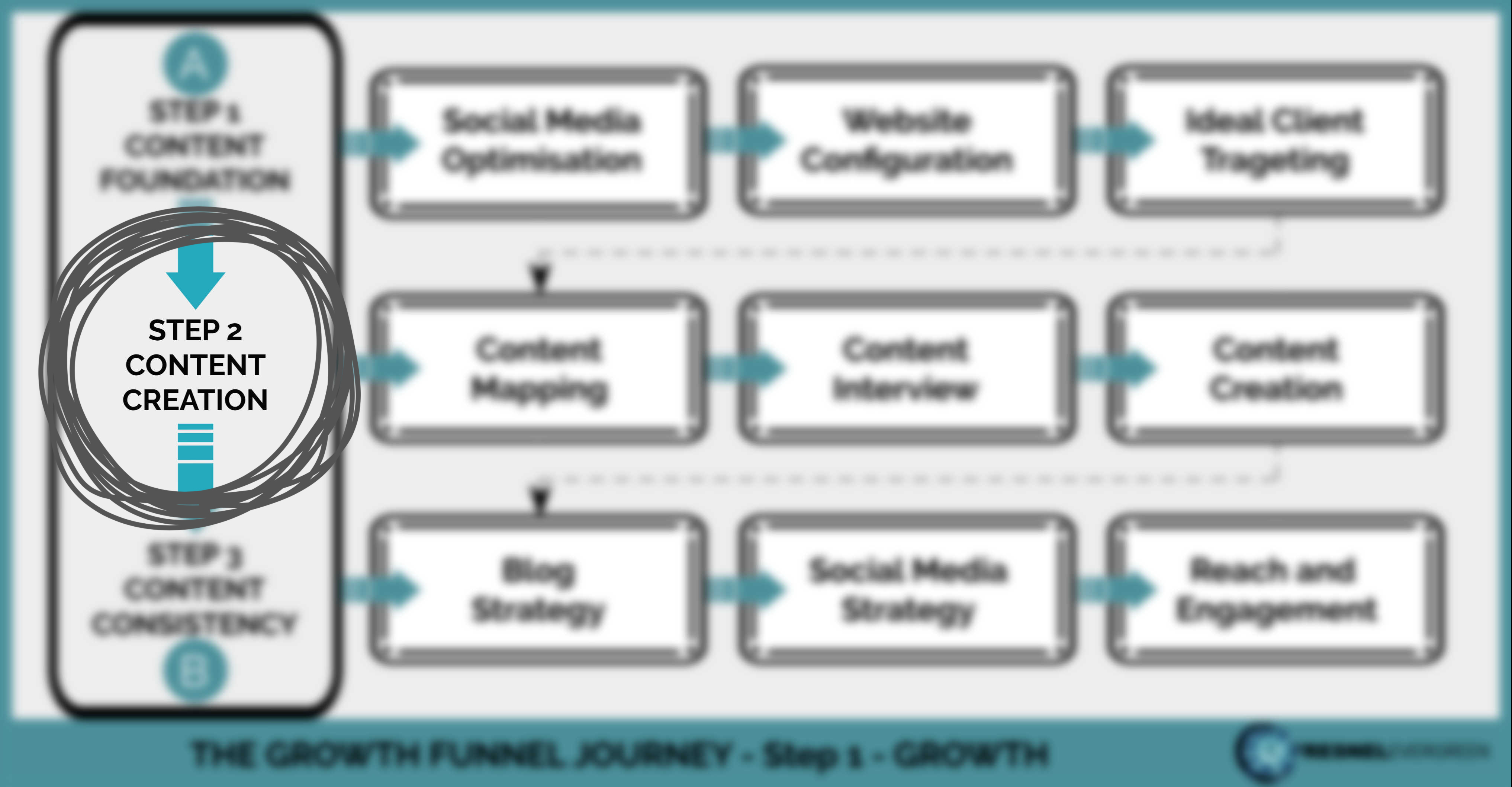 Content Mapping
A map will stay in our brain in a way that a statement or a series of points doesn't seem to be able to. The practice of designing and considering ideas via a map is like borrowing brilliance. The act of positioning your product or service into a map, and thinking as you do so, creates structure. It creates a framework for thoughts, in which you get to capture genius and play with ideas regardless of your brain's capacity to do so. At its simplest, a map is a visual representation of your key ideas using sections and topics to convey meaning and connections.
Content Interview
As a business owner we understand that you do not have the time to create and schedule a consistent flow of Social Media Posts, and spend multiple hours creating and posting Blogs. This is why we created the content mapping system. Once you have completed your content map you will have the steps and focus points for all of your blog content. Therefore all we need to do is go through each of the steps and focus points together to create your content. This is done with an interview that has been specifically designed to complement the content map. Making it so much faster and easier to create all of the content required. This interview is where we ask you a series of questions that are specifically focused on your company and your product.
Content Creation
Let's face it, we all have a general understanding that social media is a necessary tool for helping us grow our business. We all need to use social media posts and blogs to build our brand and increase our brand's visibility, through building relationships and communicating with potential ideal clients. But when it comes to understanding how to use it effectively and knowing the different techniques and algorithms for each of the platforms, it becomes an overwhelming mess. Having a social media presence without an appropriate strategy and plan can be just as damaging for your business as no plan at all.
Step 3 Content
Consistency
The final step of 'GROWTH' is your content execution. When it comes to your Content Execution – it only works when the right people see the right posts, at the right time and that's why so many marketers struggle with this. You also can't assume that your target ideal client only uses one particular social platform. Which means getting your content noticed requires eye-catching subject matter and imagery. You will need to use headings and photos that grab the attention of your ideal clients within your social media posts and blogs, regardless of the platform. You need to have a blog strategy that consistently delivers blogs throughout the entire year. They need to be optimised to your keywords and deliver relevant information that your ideal clients are searching for.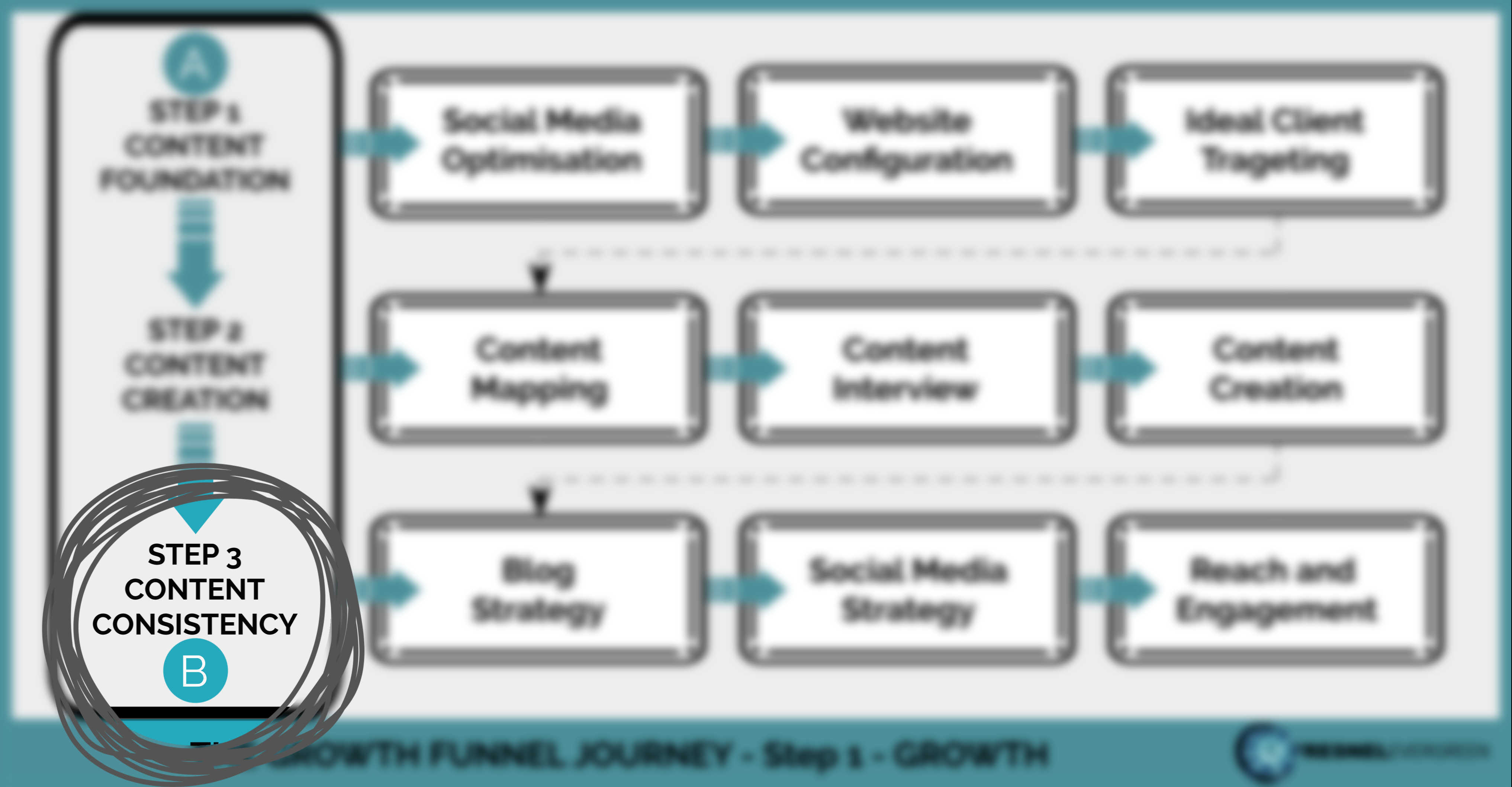 Blog Strategy
When it comes to your blogs it's all about getting in front of your ideal clients and making sure they read them. There are two main places your blogs need to be uploaded to and that's your website and LinkedIn. Which means you need two different Blog strategies.
Social Media Posting Strategy
When it comes to your Social Media Posting, once again it's all about getting in front of your ideal clients and making sure they see your posts and click through to your Blogs. There is an endless selection of free or low cost software providers who make your social media scheduling and posting manageable. We design and create your social media posts so they are ready for bulk scheduling and multiple posting across all of your social platforms. These software providers all offer analytics so you can keep track of your posts, measure your open rates, clicks and when is the best time to post. Your audience will come to expect posts at a specific time, and your post scheduler makes it more likely that you can make that happen.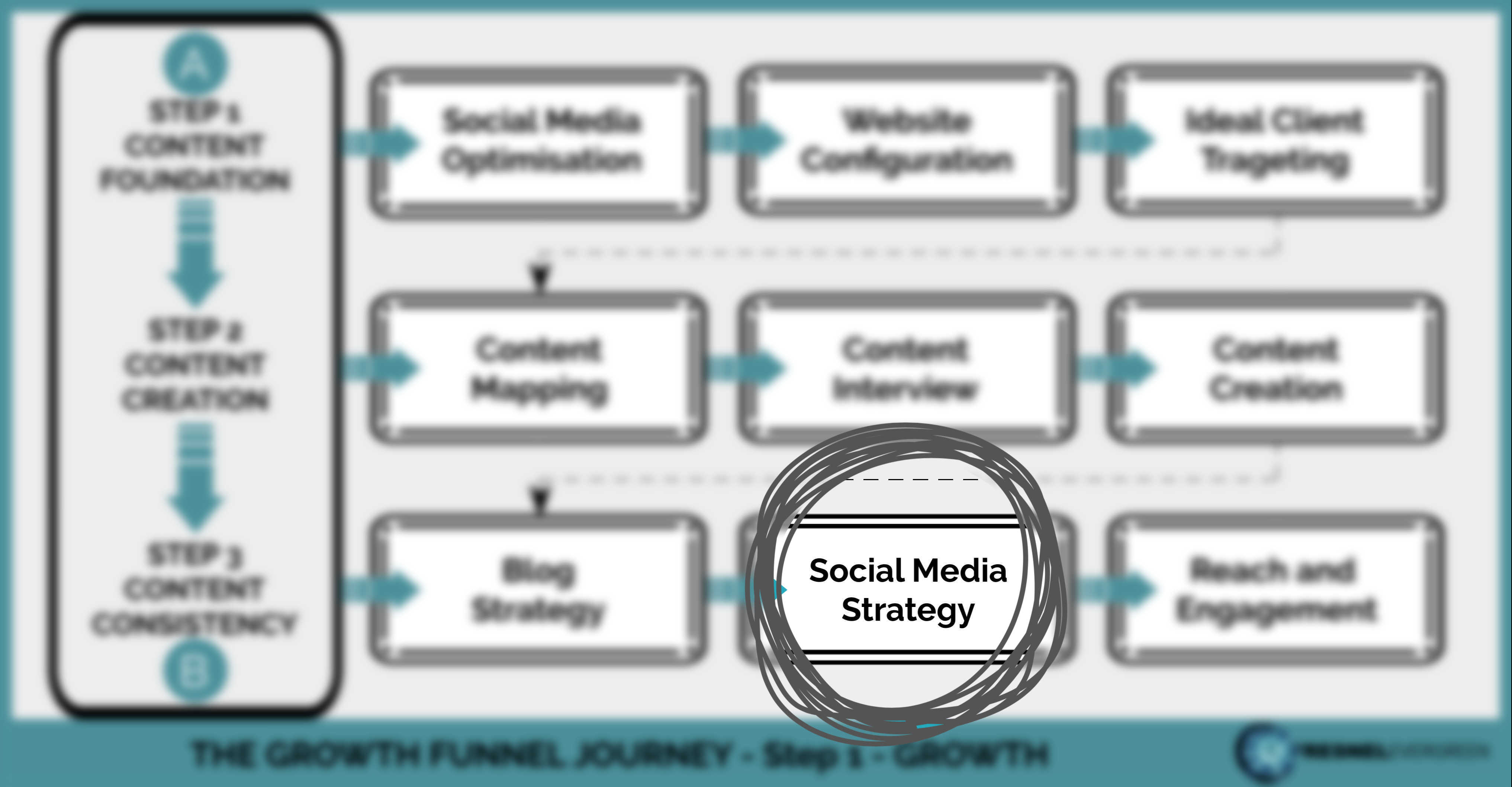 Reach and Engagement
When it comes to attracting your ideal clients into your business it's all about the reach and engagement. Your reach is measured by the number of people who received impressions of a social media post. You can have organic reach which means the number of unique people who saw a piece of your content for free, or without any advertising dollars having to be spent. Then you have paid reach which is the number of people who saw your post as a result of a promotion. Paid reach is influenced by your ad spend, so the more you spend the more people will see that content or ad. And the hardest one to achieve is viral reach which is when your ideal clients like, react, comment, or share that piece of content. This can be a result of organic posting and/or paid posting.
The Content Creation Map provides a visual representation of your ideal clients purchasing decision journey – giving you a clear idea of the business value of content and how well it performs across your social posts, blogs, eBook and email campaigns.
We create your content, so you can sell more and more of your products and services.
It's a simple function of scale, volume and conversion. The more you leverage your time and get your product or service messaging in front of the right sales leads, the easier it becomes to convert those sales leads into ideal buying clients.
So we encourage you to take your CONTENT very seriously
When you combine your digital marketing with your sales marketing you achieve business GROWTH and that's because you start converting more sales leads into sales.
When you combine your sales marketing with your digital sales and marketing funnel – you achieve a highly converting FUNNEL that automates the conversion of your sales leads into sales.
When you combine your digital sales and marketing funnel with your overall digital marketing strategy – you leverage a 1 to many marketing model that highlights all the key emotional selling triggers that make up your ideal clients buying decision JOURNEY.
FACT: Your Business Needs Consistent Content
THIS IS A DONE FOR YOU SERVICE:
GROWTH
START HERE - SEO Content Creation MAP Call
2 x 2 Hour – SEO Content Creation MAP – Zoom calls
Ideal Client Avatar
3 x Steps
Step 1 – 3 Topics
Step 2 – 3 Topics
Step 3 – 3 Topics
Zoom Call Recordings
1 x Master Content Map
SEO Content Creation Questionnaire Call
4 x 2 Hour – SEO Content Creation Questionnaire – Zoom Calls
1 x Master Content Document
22 x Blogs
122 x Social Media Posts
61 x Emails
62 x YouTube Videos
Google Analytics Setup
LinkedIn Ideal Client Attraction Strategy
Website Blog SEO Strategy
Personal Message from me:
There's a small chance that you've never dealt with me or my company before. So you may not be aware of my amazing support desk and customer care policies. If that's the case, let me set your mind at ease. You can always contact me to discuss your customised sales funnel. I will be here to help guide and support you throughout the entire process. We are using the exact same customised sales funnel for our business, so we know exactly what you are going through within each of the elements. So if you have any questions, drop me an email or lets arrange a call and discuss them.
Best wishes,
Christian Fumic
Simple, Proven and Guaranteed…