ELEMENT 1
DIGITAL MARKETING
Best Practices for your Digital Marketing Content
Every year the digital marketing world faces exciting new trends that impact your marketing strategies. In today's tech landscape, your business's success needs a solid digital marketing strategy and sales content that generates profitable sales.
The Growth Funnel journey has been designed to compliment your existing digital marketing activities. It introduces sales oriented content that helps you to stay ahead of the digital marketing curve, and smash through all the noise. So you get noticed and can generate a constant flow of new customers that builds long-term predictable growth.
Your sales leads are incredibly choosy when it comes to making an educated purchasing decision. And with good reason, your competitors are targeting them with their own sales orientated content, so there's a wealth of marketing content out there to be absorbed.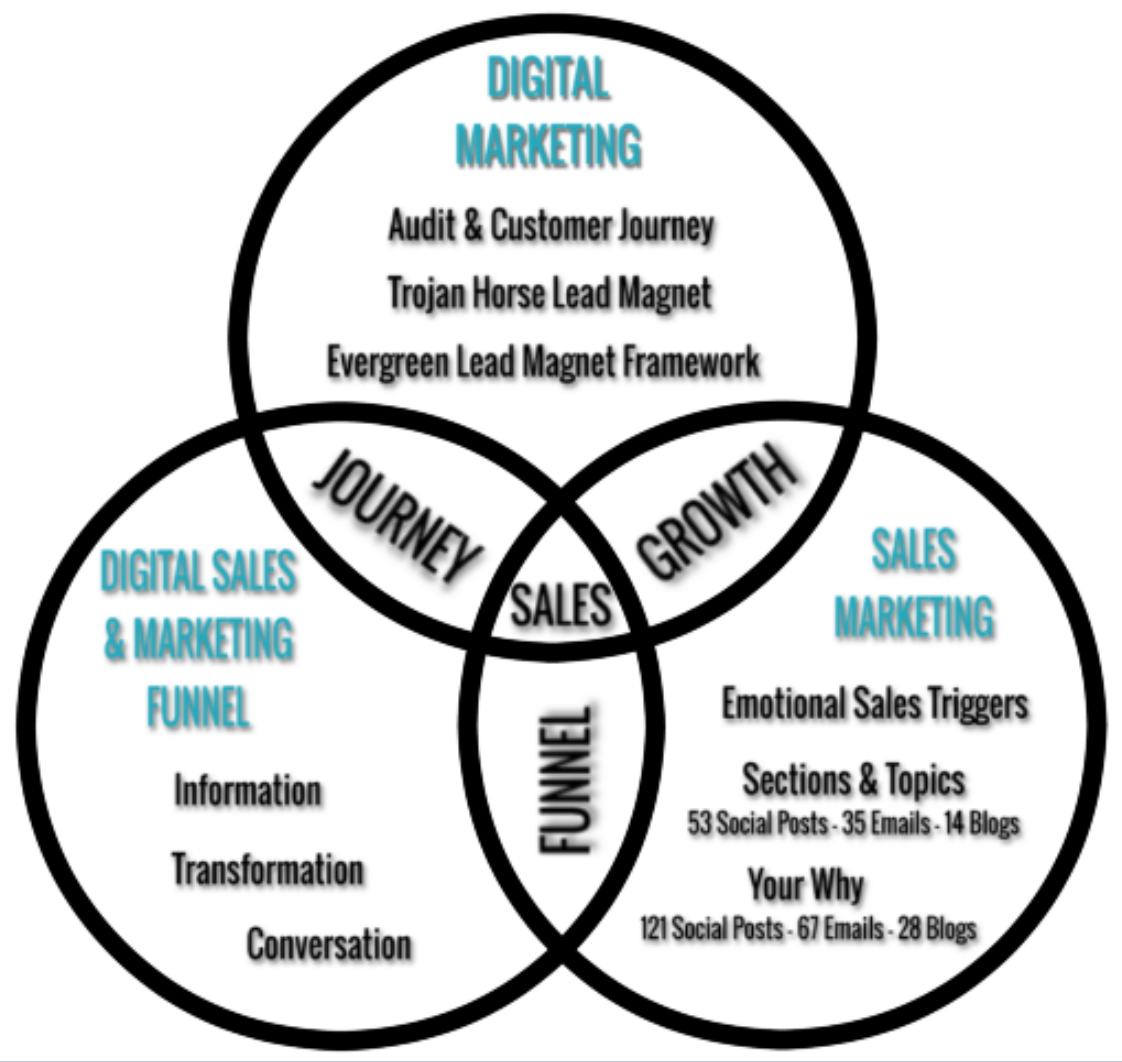 Audit and Customer Journey
First we make sure to do a Digital Marketing  audit to make sure you have everything we need to customise your sales funnel. Then we move onto structuring your product or service content, to increase your conversions and filter out the time wasters. One we have structured your content, your ad copy, emails and other marketing will virtually "write itself" as you use the language of your ideal client.
You need to know exactly who your Ideal Client are, so we can highlight the key emotional selling triggers that make up their buyers journey. That way you will attract similar sales leads into your sales funnel and make more sales.
If you can describe your ideal clients pain state better than they can, then they will automatically and unconsciously credit you with knowing the solution.
I believe in this so much that I have personally created you a short series of videos that introduces you to what we will implement into your business.
To survive in todays digital marketing world, you need direct-response copy that gets your sales leads taking specific, measurable actions that ultimately drive them to making a purchase. The Growth Funnel Journey provides you with proven techniques to writing copy that grabs attention, sets you apart, and helps you to SELL.
I want to help you take these new ideas and apply them to your digital marketing, so that you can create, implement, optimise and automate the most critical component of your business – Generating Sales Leads That Convert Into Sales!
The Growth Funnel Journey is an online digital business asset, that implements a 1 to many framework into your digital marketing strategy.
So, I encourage you to click the button below to gain instant access to more detail on these 3 essential elements. Have a look at everything we will do for you and your company and if it's something of interest, then we can discuss it in more detail at a later date.
Thank you for your time and I look forward to connecting with you soon…
The Trojan Horse Lead Magnet
The Growth Funnel Journey turns your lead magnet into what I like to call a Trojan Horse, and that's because your new sales leads have no idea how much value is concealed within it.
The major problem with the majority of lead magnets that business owners use, is that they act as glorified blog posts or offer content that is easily available from a simple google search and unfortunately, they end up collecting digital dust in your sales leads inbox.
But with this Trojan Horse lead magnet, your sales leads get immediate and unexpected value.
Evergreen Lead Magnet Framework
And then we present your sales leads with an Evergreen Lead Magnet Customer Journey which is highly-effective for three reasons:

Number 1. It offers even more unexpected and immediate value to your Sales Leads – continuing the Trojan Horse Effect.
Number 2. It Invites Repeated Usage – It's no secret that the more a sales lead interacts with your brand, your content, and your product or service, the more likely they are to become an ideal buying client.

Number 3. It Stays Evergreen – We all know how important it is to update old content. Old content that is no longer relevant to your sales leads will create a negative first impression.

Delivering the right message, at the right time, to the right sales leads and solvingthe right problem, which makes it very clear that your product or service is going to be the only solution they need.
CLICK THE BUTTON BELOW TO BOOK YOUR CALL
I'M READY – ARE YOU?
If you know that your business will benefit from a Social Media Marketing, Lead Magnet and Sales Funnel, then book this 60 minute call and we will discuss your Social Media, Lead Magnet and Sales Funnel strategy. You can then decide if this will work for your business. We will not use this call to try and sell you something – this will be an Audit and Mapping call.