The Growth Funnel Journey
Discover The 3 Core Elements Of Your Digital Marketing Strategy That Generates Highly Qualified Sales Leads And Profitable Sales.
Hello and welcome Fresnel Evergreen, we are a digital SALES and marketing agency who specialise in designing custom built Sales Funnels that help your business reach its full potential by generating a consistent, predictable and highly qualified flow of new sales leads that can easily be converted into profitable sales.
The Growth Funnel Journey is our signature system.
Look, It's no secret that the best marketing tool that ever existed is word of mouth and that's because referrals costs nothing but you shouldn't rely on them as the only way to grow your business.
Fresnel Evergreen has been helping business owners generate new sales leads that convert into profitable sales for many years, so we fully appreciate and understand the challenges that are involved when it comes to converting cold sales leads into profitable new customer sales.
The truth is, sales is a numbers game, it's a simple function of scale and volume, the more sales leads you generate, the greater your chances are of closing more sales, and without closing more sales you can't win new customers and when you stop winning new customers, your business grinds to a halt.
No matter what your business model, you will always need to win new customers to grow and be successful.
So we help you win these new customers by transforming your existing product or service into an automated customer designed digital sales funnel that builds long term relationships and gets your message in front of 1000's of new sales leads every single day.
When you're in front of the right customer, you know exactly what to say to solve their problems, so we take what's already working and we put it into a digital sales funnel that uses a Lead Magnet to get you in front of the right sales leads.
The Growth Funnel Journey turns this lead magnet into a Trojan Horse, and that's because your new sales leads have no idea how much value is concealed within it.
Once they start consuming its content and experiencing its value, it immediately builds trust, authority and starts to develop a new relationship that turns into profitable sales.
Needs to be the One Thing
They will provide you with their name and email if your One Thing is what they are searching for…
It delivers the right message, at the right time, to the right person and it solves the right problem.
Which makes it very clear that your product or service is going to be the only solution they need.
Which in turn, makes your cold sales leads sit up, take notice, and begin to see you as the one and only company who can solve their problems.
It's affordable, won't take a long to implement and requires minimal technical knowledge.
It automates your email marketing, social media marketing, your blogs, your webinars and leverages a unique 1 to many marketing framework.
And when I say leveraging a 1 to many marketing framework – I'm talking about building an email list of warm sales leads that's constantly growing, you'll have 1000's of warm sales leads all consuming your content and interested in your product or service.
Turn Cold Prospects
Into Warm Sales Leads
24 Hours A Day
Your email list starts to grow, your sales funnel starts to grow
Your Lead Magnet
Attracts Sales Leads
Your Sales Funnel
Builds trust, authority and relationships…
We all know that our customers time is precious and cold calling doesn't work anymore!
By using this type of sales funnel system, it allows you to start a relationship that builds trust and authority and converts your cold sale leads who are initially sceptical into warm sales leads who are interested.
Which means when you do start a conversation with your warm sales leads, they're ready to talk with you, making it feel comfortable and natural to both you and your future ideal clients.
It's actually very similar to a conversation you'd have, if someone was to refer them to you.
So when it comes to following up your highly qualified sales leads and converting them into profitable sales, it's so much easier because you've already provided them with content around the solution they've been searching for.
By implement this consistent and predictable sales funnel system into your business.
You can provide more value to more highly qualified sales leads, and by automating it all within a custom built sales funnel, it frees up your time, so you can focus on doing what you do best – Converting Sales Leads into Profitable Sales.
The Growth Funnel Journey puts this all together so your digital marketing can start generating more sales leads for your company.
Provide more Value
Free up your time
FOCUS ON
Converting Sales Leads into Profitable Sales…
The Growth Funnel Journey has 3 Core Elements: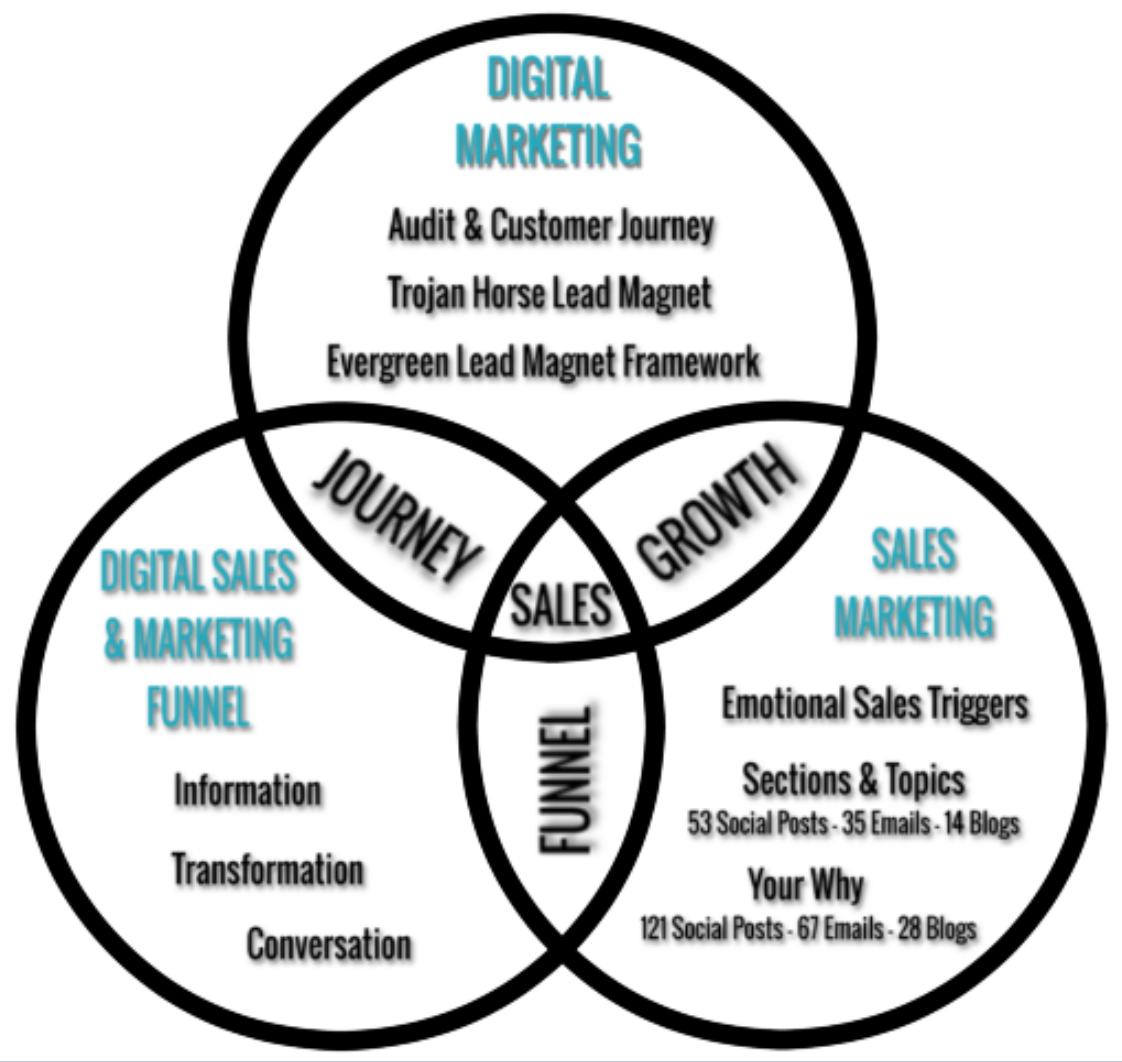 ELEMENT 1 = DIGITAL MARKETING

ELEMENT 2 = DIGITAL SALES MARKETING

ELEMENT 3 = DIGITAL SALES & MARKETING FUNNEL
The Growth Funnel Journey has taken a Digital Sales and Marketing Funnel to its next level, and that's because sales funnels have become a lot more sophisticated – similar to Google and Facebook – we learnt that sales funnels also need to have their own set of specific algorithms that focus on 3 core elements – your Digital Marketing, your Digital Sales Marketing, and your Digital Sales and Marketing Funnel.
And each of these 3 core elements are specifically designed to run individual tasks that seamlessly integrate together as a whole.
If you want to get noticed in today's noisy online world and be the one who dominates your market sector, then you need to go above and beyond what your competitors are doing.
It's now your time to stop following best practices like everyone else; and start challenging them.
So let's go through the 3 elements that allow your company to stand out and start generating a consistent, predictable and highly qualified flow of new sales leads that can easily be converted into profitable sales.
Element 1 is all about complimenting your existing digital marketing activities.
Your Digital Marketing
Focus your content on ONE THING…
Every year the digital marketing world faces exciting new trends that impact your marketing strategies. In today's tech landscape, your business's success needs a solid digital marketing strategy and sales content that generates profitable sales.
The Growth Funnel journey has been designed to compliment your existing digital marketing activities. It introduces sales oriented content that helps you to stay ahead of the digital marketing curve, and smash through all the noise. So you get noticed and can generate a constant flow of new customers that builds long-term predictable growth.
Your sales leads are incredibly choosy when it comes to making an educated purchasing decision. And with good reason, your competitors are targeting them with their own sales orientated content, so there's a wealth of marketing content out there to be absorbed.
That's why the Growth Funnel Journey leverages a 1 to many sales and marketing framework that influence your sales leads buying behaviors by delivering specifically personalised sales focused content that continues to win the battle for awareness and keeps them from finding your competitors.
Core purpose:
Compliment your digital marketing with a sales focused framework strategy.
DIGITAL SALES MARKETING
Achieving a faster R.O.I on your digital marketing…
Create digital Sales Content that is highly accountable, data-driven and focused on generating more efficient and profitable sales.
To do this the Growth Funnel Journey uses a specific signature system that leverages the main emotional triggers that help to influence your sales leads buying behaviors.
To make this easily achievable we use 2 signature system questionnaires that use your answers to create your sales funnels content. The first questionnaire creates 53 awareness generating social media posts, 35 emails and 14 call to action blogs. The second questionnaire integrates a series of emotion triggers into your content that help influence your sales leads buying behaviours. Your answers are integrated into your content to create another 121 awareness generating social media posts, 67 emails and 28 call to action blogs.
These social posts can be repurposed into mini YouTube videos which means you can have another 174 touch points showing up in your sales leads searches. So in total that's 174 social media posts pointing into 42 blogs that all contain a call to action to link directly into your Lead Magnet Opt-In page.
Core Purpose:
You have earnt the right to Transform your Sales Leads into Ideal Buying Clients.
This is a 3 step system that drives optimal visibility and demand through all your digital channels in order to maximise your revenue and profits from your Digital Marketing.
DIGITAL SALES & MARKETING FUNNEL
Maximise your revenue and profits from your Digital Marketing…
Element 3 is all about testing your One Thing product or service Information that was created in elements 1 and 2, making sure it's attracting your ideal sales leads with your Trojan Horse Lead Magnet, making the necessary changes to your evergreen lead magnet customer journey so that you are nurturing your sales leads and building trust, authority and developing relationships, and then tweaking the Emotional Triggers That Influence Your Sales Leads Buying Behaviours until your one thing product or service starts generating profitable sales. This is the only way you can gain a much faster return on your investment.
Core Purpose:
This is where you prove that your Product or Service can generating a consistent, predictable and highly qualified flow of new sales leads that can easily be converted into profitable sales.
I believe in this so much that I have personally created you a short series of videos that introduces you to what we will implement into your business.
To survive in todays digital marketing world, you need direct-response copy that gets your sales leads taking specific, measurable actions that ultimately drive them to making a purchase. The Growth Funnel Journey provides you with proven techniques to writing copy that grabs attention, sets you apart, and helps you to SELL.
I want to help you take these new ideas and apply them to your digital marketing, so that you can create, implement, optimise and automate the most critical component of your business – Generating Sales Leads That Convert Into Sales!
The Growth Funnel Journey is an online digital business asset, that implements a 1 to many framework into your digital marketing strategy.
So, I encourage you to click the button below to gain instant access to more detail on these 3 essential elements. Have a look at everything we will do for you and your company and if it's something of interest, then we can discuss it in more detail at a later date.
Thank you for your time and I look forward to connecting with you soon…
CLICK THE BUTTON BELOW TO BOOK YOUR CALL
I'M READY – ARE YOU?
If you know that your business will benefit from a Social Media Marketing, Lead Magnet and Sales Funnel, then book this 60 minute call and we will discuss your Social Media, Lead Magnet and Sales Funnel strategy. You can then decide if this will work for your business. We will not use this call to try and sell you something – this will be an Audit and Mapping call.