TRANSFORMATION
Welcome to Step 2, please be aware that we only uplift you to Step 2 once we have the PROOF that your Lead Magnet is attracting new sales leads and your Lead Magnet Journey is converting your sales leads into ideal clients.
Step 2 is your next logical step of your Growth Funnel Journey. This is all about Transformation, converting your warm sales leads into Ideal buying Clients. Now that we have created a fully automated sales funnel that generates consistent, predictable and highly qualified sales leads it's time to transform them into profitable sales.
The fact is – generating high quality sales leads that convert into sales – is constantly getting harder in the online digital world.
In Step 2 your warm sales lead needs to be treated completely differently because they have consumed your One Thing content and started their learning experience, which means they are more open to advancing towards purchasing your product or services.
And if your One Thing product or service has successfully resonated with them and connected to their pain state, you have created the perfect synchronicity, of the Right Content, at the Right Time, delivered to the Right Person – which means selling your one thing product or services in step 2 becomes significantly easier.
Conversion = Return On Investment
Your Conversion – which will ultimately contribute towards generating Profitable Sales.
Now that you've completed Step 1 and have created your Trojan Horse Lead Magnet and your Evergreen Lead Magnet Customer Journey, your content will be attracting new sales leads into your sales funnel. These cold sales leads will be converted into warm sales leads and the time wasters or digital friends will be filtered out. Leaving you with an email list of pre-qualified sales leads, who are all waiting to buy from you.
Step 2 is all about Transformation. You have earned the right to ask your sales leads to take action and purchase your product or service. Allowing you to make a return on your marketing investment, a percentage of your sales revenue is split out and put back into your social media advertising. This means your growth funnel journey starts paying for itself. The more sales you make, the more advertising you do, the more advertising you do, the more sales leads you generate. The more sales leads you generate, the more sales you make. It becomes an unlimited fully automated, self funding selling machine, thus supporting your company towards Financial Freedom.
Relationship = Authority
Your relationships will ultimatley help you to become the expert.
As your community of sales leads and ideal clients start to increase in size, it becomes important to build stronger relationships. This is because as you start selling your product or services you automatically build authority and earn trust.
As a result of becoming more of an expert in your chosen One Thing niche, you also start to attract even more sales leads into your funnel. As these new sales leads travel along your sales funnel, they easily identify you as an expert, ultimately increasing your conversion percentages even more.
Leveraging = Meaning
By leverage a 1 to many framework, you can add more meaning to more people.
Now that you are leveraging an automated 1 to many sales model, your message is getting out to more sales leads, enabling you to deliver more meaning to more people. As you start to deliver more meaning to more people, they start to appreciate your time is valuable. Your Ideal Clients know that your one thing product or service works because the more they consume your content, the more they achieve amazing transformations. So, as the demand for your time increases – you begin to increase your rates – until you achieve a level that your clients can afford and you feel comfortable charging. This is a nice problem to have and it means you are ready to move forward to Step 3 at which point you may add in extra premium services that create limitless revenue potential…
CONVERSION FOCAL POINTS
Think of your sales funnel as a chain – it's only going to be as strong as its weakest link. Which means each link of your growth funnel journey chain is a main conversion focal points. And each one needs to be monitored and maintained so its performing at its maximum strength.
Your conversion focal points are directly related to your business success, so the more you take control of each one – the greater your chances are of succeeding.
These 28 conversion focal points allow you to shift the balance away from old limiting risks and towards a leveraged 1 to many sales lead asset which generates a consistent, predictable and profitable revenue flow.
So if you would like to learn more about the Growth Funnel Journey, the 3 Steps I've just introduced, and these 28 critical conversion focal points.
PROMOTE YOUR ASSETS
Now that you have a growing email list and a thriving community of like minded sales leads, it's time to focus on your most popular product or service and increase your overall market share within your current market space.
Satisfying your sales leads strengthens your brand and proves that you live up to your lead magnet journey promise. By segmenting your email list, you can target your emails in a way that will specifically convert potential sales leads into actual customers, first time customers into loyal customers, and loyal customers into brand ambassadors.
It can be as simple as offering discounts for new customers or a free add on services with purchase to your most loyal customers.
1 = RECOMMENDED FOR YOU
In Step 1 when all of your sales leads entered into your sales funnel the Growth Funnel Journey gave every sales lead a unique tag depending on what actions they took as they consumed your content. This allows you to segment your sales leads for better engagement.
Segmentation essentially sorts your sales leads into different lists or "buckets" based on their engagement and the information you have on them.
Your sales funnel puts your sales leads into the four following buckets: Customer Type, Interest, Location and Behaviour.
2 = EMAIL MARKETING
he Growth Funnel Journey focuses on a series of email campaigns that are all automated. So your best content goes to your warm sales leads and ideal clients like clockwork on demand, whether you're awake, asleep on vacation, on a webinar or coaching clients.
And now that your email list is rapidly growing by the day, and all of your email marketing in Step 1 is automated – you simply add in a few more email campaigns to help educate, segment and strengthen your relationships. And because this is a mix of your warm sales leads and ideal clients, your open rates are going to be incredibly high. In Step 2 your email campaigns are all designed to deliver valuable content with a specific call to action, that gets them to purchase your product or service.
Therefore it's important to monitor your Key Performance Indicators so you get instant feedback on whether you're meeting or exceeding your target cost per lead:
Strengthen your product or service
INCREASE AWARENESS
Social media will be one of the best ways to grow your business, it allows you to send specific messaging to new and existing sales leads online. Just as your sales leads turn to Google to find information on the products and services your business provides, sales are also searching for you on social media too.
Increasing your awareness on social means being there, consistently, with a wide variety of content.
And perhaps most importantly, social media often gets your business in front of audiences who might not be subscribing to your emails or even visiting your website. So in step 2 it's time to increase the number of platforms you are marketing on.
3 = SOCIAL MEDIA ADVERTISING
This is where you really kick your social media into gear and apply re-targeting that attracts more of the same type of sales leads who are interested in your one thing product or service. 
Remember I said in the Email Marketing conversion focal point that you need to follow up with a sales lead 7 to 12 times or even as much as 40 times. Well, the same applies to your advertising. Why do you think Coca-Cola spent over 3.96 Billion dollars on advertising a year – because you need to always be in front of people, otherwise they forget about you. So making sure your adverts are following your sales leads and finding similar ideal clients is critical to your growth. And that's why Step 2 is a very exciting time for your growth funnel journey.
4 = SOCIAL MEDIA PUBLISHING
This is where you have the freedom to attract so many look alike or similar prospects into your funnel, it's almost ridiculous. Just imagine, turning on other countries as well and opening up a whole new revenue stream each time. 
Now the traffic volume skyrockets through the roof. It's really amazing. And because you have such a solid sales funnel foundation – it can easily handle any volume of traffic. And because you are now used to selling via a 1 to many framework, it becomes achievable to convert them all.
Therefore it's important to monitor your Key Performance Indicators so you get instant feedback on whether you're meeting or exceeding your target cost per lead:
LEARN AND ADJUST
Your sales funnel will face a range of different challenges. As your sales funnel grows, different problems and opportunities demand different solutions – what worked a month ago might now be not the best approach. All too often, avoidable mistakes turn what could have been a great sales funnel into a non converting mess.
Recognising and overcoming the common pitfalls associated with sales funnels is essential if your business is to continue to grow and generate new sales leads. Crucially, you need to ensure that the steps you take today don't themselves create additional problems for the future. Regularly revisiting and updating your conversion focal points can help remind you of the changing market conditions and the need to respond to them.
5= PRODUCT OR SERVICE
Your growth funnel journey is similar to an escalator that brings people up to the point of 'ready to buy'.
Your conversion focal points help them to prepare and be ready to purchase your product or services.
It converts cold sales leads into high-end ideal clients like clockwork and makes it really easy for you to have conversations with them and convert them into your premium services. And that's simply because your ideal clients come to you pre-sold so they already value you and your content. They come pre-disposed and they want you to help them achieve their end desired results. They come pre-screened so you've filtered out all the time wasters who weren't the right fit. So you no longer waste your time.
And most importantly, they come to you ready to buy your product or services, so you don't even need to sell anymore!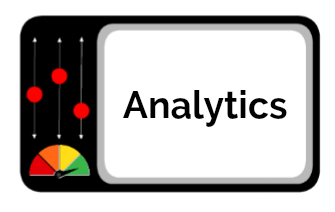 6 = ANALYTICS
With the plethora of data available online and offline, as well as numerous touch points throughout your sales leads journey, it's fundamentally essential that you have a way to understand and measure marketing performance across channels, as well as understand your sales leads.
Marketing analytics tools enable you to bring your marketing efforts across channels into a single environment, connecting marketing activities to clearly understand how your sales leads are engaging across channels. Data across channels can be readily monitored and analysed, enabling you to make sound decisions about when and where to spend your marketing budgets and deploy resources. The result is improved effectiveness and efficiency of your conversion focal points within step 1 and step 2.
Therefore it's important to monitor your Key Performance Indicators so you get instant feedback on whether you're meeting or exceeding your target cost per lead:
Analysis marketing decisions
CUSTOMER ENGAGEMENT
The right customer engagement strategy transforms your business and helps you achieving maximum ROI. The Growth Funnel Journey allows you to use your lead magnet and sales funnel to acquire targeted followers, and reach more of your sales leads on a regular basis. With 2+ billion social media users, there's no doubt there are new sales leads of your products or services just waiting to be found. But if you want to grow your bottom line, it's not enough to simply post content and collect emails – you need the right strategy for your brand's goals. Engaging with your sales leads is ultimately what builds affinity and helps you develop a community through optimised content promotion, increasing engagement and affinity within with your following.
7 = BRAND AMBASSADOR
Brand ambassadors can reach different demographics in a variety of regions you may not be able to market to. It's a cost-effective way to widen your marketing, without having to put much money or effort into it. You provide the support, and your brand ambassadors take care of the rest.
In step 2 you start to ramp up the volume of traffic, by finding a few brand ambassadors who can help you promote your brand by using word of mouth tactics. Thanks to social media, you may be able to find a few ambassadors eager to help by simply looking online. In fact, there are a ton of opportunities out there for you to get the word out about your business. The best part is, it can be done without you having to mass-blast your information… Instead, you can have an ambassador do it for you.
8 = BRIDGE WEBINAR SERIES
Now in Step 2 you deliver more focused and specific sales messaging to your segmented warm sales leads. By starting your live webinars in step 1, it helps you master presenting, which means your webinars will be your most effective 1 to many leveraged selling tool.
In step 2 your email campaigns will also help make your webinars even more successful. Now that you have a growing list of warm sales leads, it becomes very important to focus on sign ups, show ups, purchase ups and follow ups. The Growth Funnel Journey has perfected these 4 focus areas over the years. All you need to do is take the emails and funnel page templates, and customise them to your own one thing product or service.
One of the keys to moving from a time consuming 1 to 1 selling method and over to a leveraging 1 to many selling method, is using webinars as your conversion tool.
Therefore it's important to monitor your Key Performance Indicators so you get instant feedback on whether you're meeting or exceeding your target cost per lead:
CLICK THE BUTTON BELOW TO BOOK YOUR CALL
I'M READY – ARE YOU?
If you know that your business will benefit from a Social Media Marketing, Lead Magnet and Sales Funnel, then book this 60 minute call and we will discuss your Social Media, Lead Magnet and Sales Funnel strategy. You can then decide if this will work for your business. We will not use this call to try and sell you something – this will be an Audit and Mapping call.