CONVERSATION
Welcome to Step 3, please be aware that we only uplift you to Step 3 once we have the PROOF that your Lead Magnet is attracting new sales leads and your Lead Magnet Journey is converting your sales leads into ideal clients.
By the time you reach Step 3 it's really important to close any disconnect between your social media marketing and your business sales strategy. You need to see them as the same thing to properly navigate through your digital transformation and understand how it is impacting your business.
When it comes to your social media, the more sales it generates, the easier it becomes to justify increasing your budgets for new social initiatives.
Every business has a set of challenges and risks that need to be considered, especially when it effects its P&L [profit and loss] statement. Introducing a new set of social media marketing goals means they need to be tied into the companies sales goals.
If you don't align these goals together, how will you know if your marketing is having a positive effect? How will you know if it's getting sales leads to consider making a purchase? How do different channels push sales leads to places they might actually buy? What types of content and formats are moving people from one point to another on the Lead Magnet customer journey?
When you reach Step 3 you need to be directly connecting your Lead Magnet and Sales Funnel to these big five challanges:
Revenue
Cost
Efficiency
Differentiation
Customer satisfaction
These five levels of focus are much more important than the number of likes, followers, shares, and retweets!
Engage = Do More Of What Works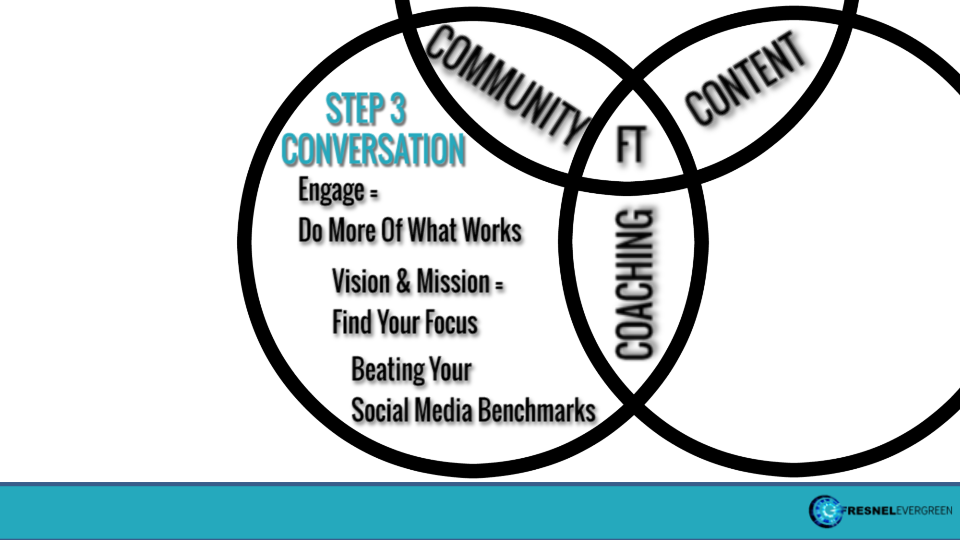 Engage. Now you've established your trust and authority, positioned yourself as the expert in your One Thing niche, and built a community of like minded sales leads and ideal clients, it's time to engage more on a LIVE basis with your community by simply doing more of what's already working.
You offer your community the opportunity to have more 'Conversation' with you by adding into your sales funnel, new live elements. You can launch more events, seminars, and webinars. You can engage with your community in a live format and get them taking action. It's time to have fun and enjoy what you are doing. The more value you add, the more sales you make.
Vision and Mission = Find Your Focus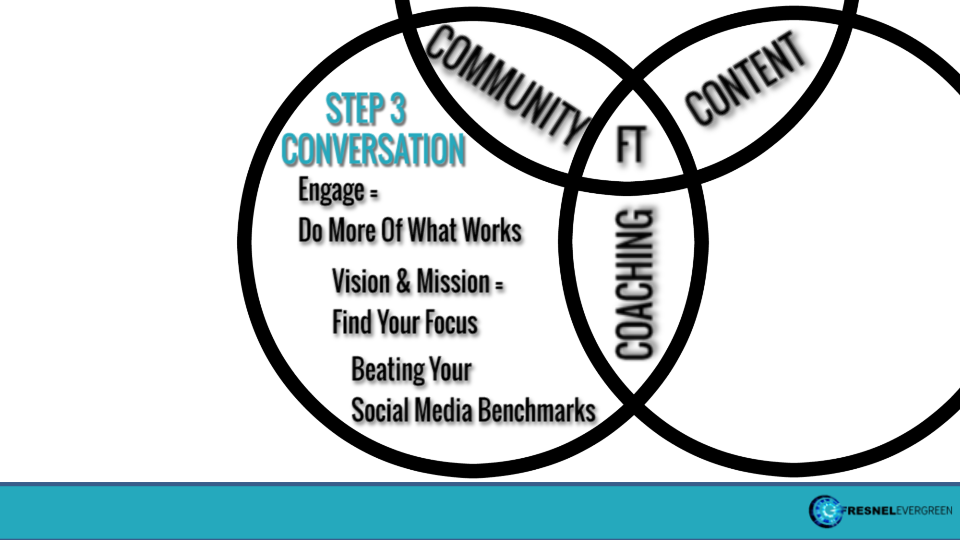 Find your Focus and become the go-to-expert.
People want to hire a specialist, so make sure your Lead Magnet and Sales Funnel content always stays focused on one thing. The key to building authority online is to go an inch wide and a mile deep. You've got to know your One Thing and to not get too diversified. If your sales leads look at your LinkedIn, Facebook, Twitter posts, and see random messaging and non regular posting – they will know you are spread thin and trying to do too many different things. But if they see a consistent and regular posting and all the content is relevant to your One Thing, then they will see you as a specialist.
Whether your sales leads are buying a piece of electronic equipment or looking at your company to purchase from you, they will want to buy from specialists.
Beating Your Social Media Benchmarks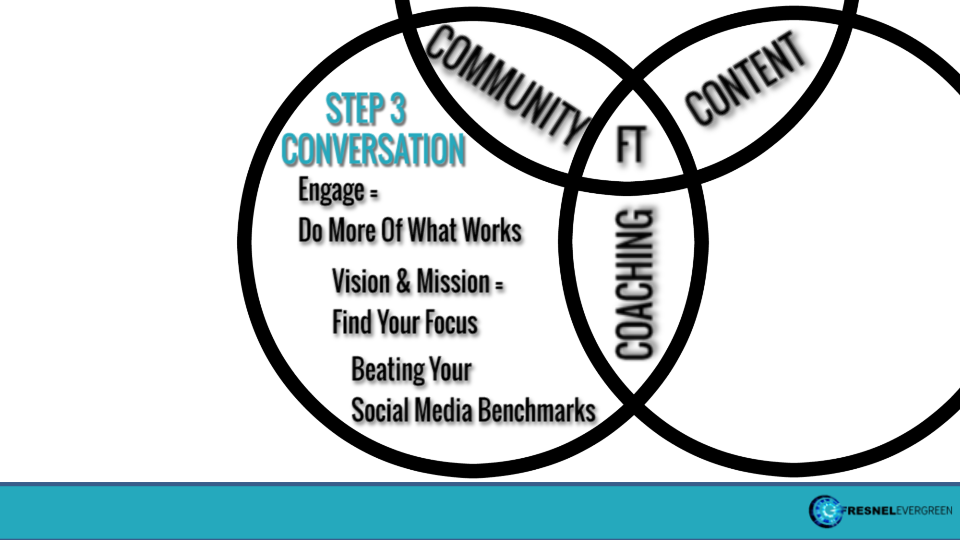 Once you're armed with your data and know your conversion percentages, the next step is to work out how to improve them.
The fastest and easiest way to improve on your own conversions, is to stand on the shoulders of giants…
Now it's time to invest in advanced software platforms, like Hootsuite for example. They have more than 15 million users worldwide, and access to data and insights about how businesses in every industry use different social networks.
They can provide you with ideas on how to differentiate your content from competitors who read the same blogs and have the same SEO keyword data. How to learn more about your ideal clients. What transforms a good social strategy into a winning strategy for your business.
Now that you have a complete working sales funnel and are building a strong community of like minded followers, it's time to deep dive into the tools and habits of other experts.
1 = SEO
We start by understanding your business and what it hopes to achieve. We will already know this because we are involved in building your sales funnel. It is only then that a successful strategy for online marketing campaigns can be developed.  Over 70% of all purchases start in a search engine. In excess of 80% of searches are through Google. 90% of all search engine 'clicks' go to the first half of page one. Having an effective SEO campaign that delivers the right type of customer to your website is the Holy Grail when it comes to developing a profitable business using the internet.
By Step 3 you know what opt-in percentage your Lead Magnet is converting at, therefore it makes sense to drive more search traffic to it because you can calculate a direct return on your investment.
2 = EVENTS
Events are a great place to showcase your knowledge and skills, and it can also be an invaluable place to network with people that may not generally attend actual "networking events". Speaking at networking events is a great way to attract new sales leads and increase your awareness. And now that you have a community of like minded followers, it will be so much easier to invite your community to your attend your own events. You can create a launch campaign and slowly build up to the event date. Incorporating events and gatherings for your online community allows them to meet each other in real life. It makes people excited, gives them something to look forward to and helps your community build bonds.
3 = SEMINARS
Seminars and workshops are particularly potent business marketing tools. A good seminar presentation has two important advantages over a one-to-one sales presentation (other than scalability). First, a seminar automatically positions you as an expert. And second, because a seminar is less invasive than a one-to-one sales presentation, a seminar is easier to promote your product or service. Your seminar can be used to acquire new sales leads or it can be used to add value to your existing clients.
This is a "joint venture" (or JV) longer-term relationship where you combine your products or services with a potential partner who has a product or service that complements your business.
You both create a completely new product or service together, and coordinate a specific promotion. Then you both email each other's community, inviting them to free training and, at the end, offer a deeper dive product or path to go further…
You both then share revenue from the promotion together. Now that you have a growing community, you will find more and more people wanting to partner with you. This is a very easy and fast way to increase revenue whilst building an even larger email list.
5 = JV WEBINARS
This is similar to the JV Partnership but instead of developing a joint product, you simply promote your own products or services to each other's list via a webinar. This is more of a one off promotion rather than a longer term business relationship and is fast and easy. This is also a great way to 'test the water' and see if both communities would like you to create a product together.
6 = ANALYTICS
By Step 3 you will have so much data and statistics, that it makes sense to invest in advanced tracking software to make your life easier. This also means you can keep changing your Lead Magnet by adding in your highest converting content. That way your conversions will keep increasing and you can move your sales leads along your sales funnel much faster towards purchasing your product or services.
7 = SOCIAL MEDIA ADVERTISING
This is where you use your lookalike audiences and retargeting to attract your ideal client from all the different social media platforms. Making your sales funnel opt-in conversion percentages even higher and also increasing your sales because they will be very similar to your ideal clients. You will also be able to advertise to your list for your webinars and get a much higher attendance, which in turn means you will sell more. This is when your sales funnel really generates a consistent and predictable flow of highly qualified sales leads that can easily be converted into profitable sales.
8 = PRIVATE FACEBOOK GROUP
In order for you to build a community, you need to identify the type of community you want. It needs to be centred around your brand, product or service so everyone has a common interest. It should be one that your ideal clients find valuable and want to participate in. Facebook is so easy to do this with and even though it might not be your main focus, a private Facebook group is easy to set up and maintain, you just need to make sure you're monitoring the conversations and if messages go unanswered or requests go ignored, you answer them. Even your webinars can be live streamed into a Facebook community which can capture your audience no matter where they are via their mobile phone – perfect…
CLICK THE BUTTON BELOW TO BOOK YOUR CALL
I'M READY – ARE YOU?
If you know that your business will benefit from a Social Media Marketing, Lead Magnet and Sales Funnel, then book this 60 minute call and we will discuss your Social Media, Lead Magnet and Sales Funnel strategy. You can then decide if this will work for your business. We will not use this call to try and sell you something – this will be an Audit and Mapping call.